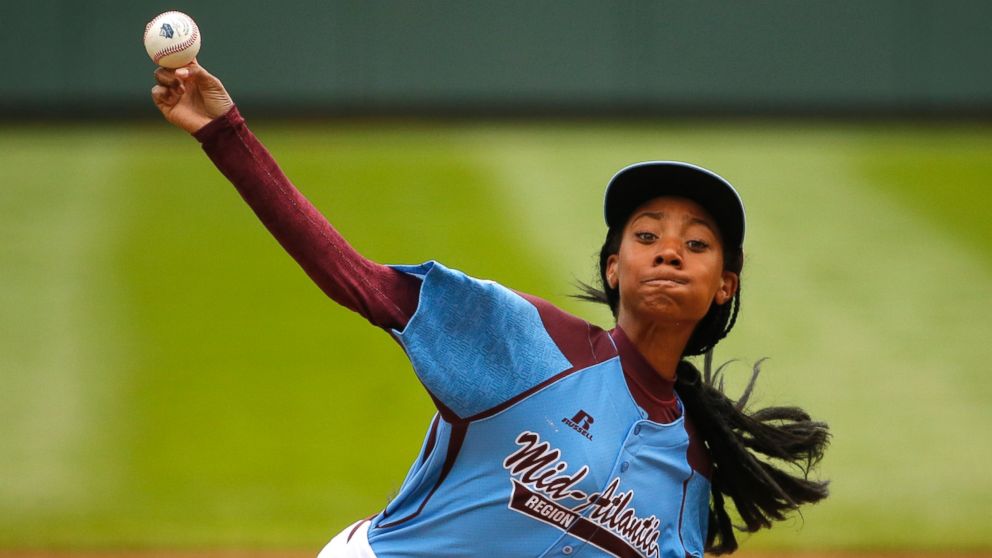 Mo'ne Davis is willing to walk it off. A college baseball player said some offensive words about her.
Now here's a young woman willing to forgive the unrepentant ignorance of NCAA baseball player.
Joey Casselberry was benched after he called Little League World Series star Mo'ne Davis, a nasty word on the social media.
She is a 14 year old phenom and the news agitators are envisioning big prospects for her.
Casselberry, an attendee of Bloomberg University was kicked off the team and may face disciplinary actions if the school president finds anymore offensive themes.
Casselberry has since apologized and Mo'ne accepted it. But here's the real kicker, she and her coach asked the school president to put him back on the team.
"I know right now he's really hurt," Davis told ESPN of her forgiveness. "Everyone deserves a second chance."
Big dummy got benched after he called a teenager a slut.
The fool went on a social media rant that got him removed from the team derisively referred to Davis as a "slut" and mocked her for losing to Nevada during the World Series. Casselberry apologized over the weekend a now-deleted message: "I please ask you to [f]orgive me and truly understand that I am in no way shape or form a sexist and I am a huge fan of Mo'ne. She was quite an inspiration."
This school stands firm in this.
He is off the team and there's nothing else we can do about it. The player violated the social media policy, he must face the consequences.
We here at Journal de la Reyna wish Mo'ne well on her journey.