The winner of Powerball comes forward. She shows her ticket to the junk food media. Notice that most lottery experts believe that "quick picks" are the way to winning. The winning numbers are located on line D.
The record Powerball jackpot winner steps forwards to claim her share. She is actually putting her face out there to explain her struggles and the miracle of being a single mom and now a jackpot winner.
Marie Holmes of North Carolina was one of the three winners who claims the $567 million jackpot.
The 26 year old mother of four came forth to explain why she wanted to go public.
She along with winners from Texas and the autonomous territory of Puerto Rico share this. With taxes each would walk away with an estimated $130 million.
She had an opportunity to talk to the junk food media about the day she purchased that winning ticket.
Life is good for Marie Holmes.
If you look slightly towards the ticket. The lottery commissions will tell ya that "machine pick" tickets are the ones that you could find the jackpots in. Of course, you're playing against 176 million others who are willing to shelve up to $300 to play a $2 unit of Powerball or $1 unit of Mega Millions.
The Shallotte woman vows to not let the winnings "change her". She said that she will devote some of her earnings to a local church and give her family a vacation.
The Daily Mail reports that Marie used to work at McDonald's and Walmart before quitting to take care of her children.
Her four children, Brayden, Charisma, Andrea and Ebony, are aged from nine months to seven years old. Brayden is believed to suffer from cerebral palsy.
Holmes sacrificed her education to care for her four children and took minimum wage jobs to provide for her family.
With little or no help from the fathers of her four young children, she has struggled financially for most of her adult life.
Holmes has also seen her own father repeatedly jailed and her favorite cousin shot and left paralyzed after a home invasion.
Family members describe Holmes as a loving mother who always put her children first.
"Marie is very grounded and she will know what to do with all that money," said her uncle William Bryant.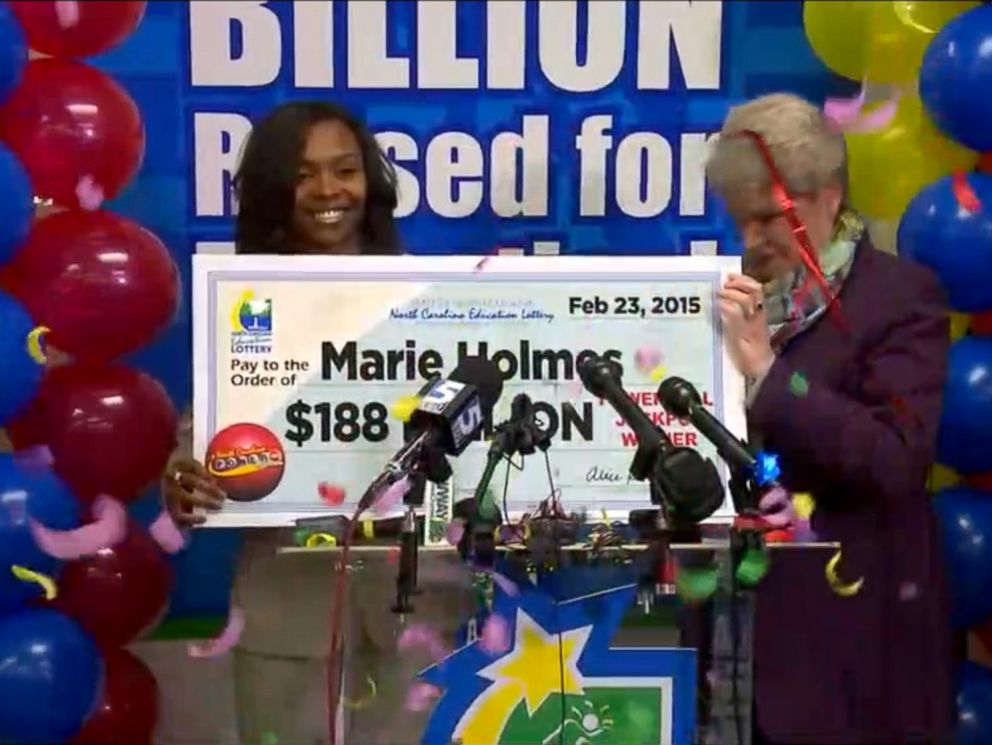 Be careful, the Have-Nots will come.
"I'm sure she will want to buy a new home for herself and her kids, but I can't see any extravagant purchases. She's a nice girl who loves her family and loves her church."
In 2012, state officials who run Powerball and Mega Millions changed ticket prices and lowered the odds of winning jackpots in hopes the moves would increase the number of huge prizes and draw more players.
The new rules worked, causing jackpots to repeatedly climb to record levels. More than half of the top 10 U.S. jackpots have been reached in the past couple of years.
Be careful what you play. You are responsible for whatever unit comes out! Be clear in explaining what type of unit you requesting.
Powerball and Mega Millions are tickets that can not be canceled. You are responsible for whatever unit comes out. Your state lottery commission and the licensed retailer are not responsible for lost, stolen, damaged or altered tickets.
You have to be at least 18 years old to play these games.
Best advice for all who win the lottery, is keep a cool head.
The first thing you do is write your name down on the back of the winning ticket. Say if you lose the jackpot ticket! If you have forgotten to sign the ticket and it gets lost, then it's your word against the winner's.
Second, make sure you cancel out your Facebook, Twitter, YouTube or any other social networking website your on. That's the next thing that happens when you're a winner.
Third, you cancel your phone numbers and limit your email intake. Obviously you'll be swamped with phone numbers and well wishers asking if you're willing to shelve out a little cash. Trial lawyers, charity groups, the junk food media and scammers will take advantage of you. Some charity groups will not often bother you, but there are some that pose as legitimate but in reality a scam.
Fourth, hire a qualified lottery attorney. Make sure you have a qualified attorney who specializes in handling large sums of money. Don't assume every attorney is well respected in handling your financial earnings.
Fifth, don't quit a job until you are sure you've won the lottery. Don't rush to judgment about being a lottery winner. Sometimes a person who wins the lottery never expects it to happen so don't sit around the house hoping the day will come you'll be the millionaire. Don't burn bridges with your job. You may end up back at it if you decide to go back into the workforce.
Sixth, pay off debts to college loans, house, billings, and credit cards. Don't let these issues ruin your credit score or chances at buying better things. Do not share earnings with people who owe you money.
Seventh, invest your money in a trust fund if you have children or family members you can trust if you should die. Make a will or entrust. Make sure you know that you have a family member or a trusted friend who will take care of the winnings once you pass away.
Eighth, have fun with your earnings. Don't blow it on things that obviously will attract negative attention. Yeah, this is a gateway to putting in other venues. Some may blow their money at casinos, horsetracks, fantasy football and online poker. Granted that you are given the right to do whatever you want with your earnings, but seriously are going to get a gold stature of your image? Are willing to have five chefs, a butler, housekeeper, nanny, and chauffeur on the payroll? You going to buy a $100,000 vehicle! You want to own an island! Do you want your "friends" who often borrow money from you to handle your earnings?
Ninth, be humble. Cause money will change a person when they're rich. Don't expect your live to be "normal" when you win the lottery. Cause it's not going to be normal. It could a great experience or the worst thing.
Lastly, The Have-Nots Will Always Try To Make You Feel Guilty About Winning. Ignore Them And Be Happy About Your Success.