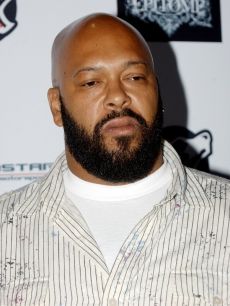 Them days of freedom for Big Suge are over. The gruesome hit-and-run of a person may be the media mogul's undoing.
Not only facing felonious assault for smacking up a female photographer but now add an alleged fatal hit and run. The legal woes continues for former Death Row Records co-founder Marion "Suge" Knight. The media mogul who formerly was a member of the domestic terrorist group The Bloods has been in and out of the iron college. But now this time, I think he's at his third strike and he's going to be out.
If the charges are proven, he's going to the iron college for LIFE.
The Los Angeles Sheriff's Department responded to a hit and run crash Thursday afternoon in Compton that multiple reports said involved Suge Knight .
Two people were hit, and one later died at a hospital, authorities said. According to Fox 11 and TMZ, Suge Knight was in the car that fled the scene.
Apparently Knight was trying to stalk Dr. Dre, Game and Ice Cube. They were at publicity shoot in the suburb of Compton. I guess Knight and his crew were going to be bystanders. Of course, some one shouted some offensive words at that's what lead to a huge fight. During the fight, someone got into a car and ran over a person. The fingers are pointed at Knight.
Knight and the good doc have an ongoing feud over the doc's departure from Death Row. Big Suge accuses the doc of being a sellout and snitch. Big Suge believes Dre betrayed the label. Dr. Dre was the other co-founder of Death Row.
After Dre's departure, he went forth to start up Aftermath Entertainment and Beats Audio.
Dr. Dre has a restraining order against Suge Knight. Knight has mocked it and questioned the sexuality of Dre in retaliation. He also sparked a major fight in 2004 after an associate of Knight sucker punched Dre and lead to former Aftermath rapper Young Buck to stab the guy.
The LAPD said that Knight has turned himself in. We don't have any new updates to this, but expect it be a story that me and S. Baldwin will continue to follow. We send our condolences to the victim who was killed in this senseless tragedy.