These women are named Loretta Lynch. Guess which one is being nominated for U.S. Attorney General? Which one will the racist right attack the most?
In their latest attempt to find some either racially bias or politically bias attack on the nominee for U.S. Attorney General, the dumbasses at Breitfart have tried to dig up dirt on Loretta Lynch.
How much dirt?
Dirty straight out of the 1990s.
But according to Media Matters for America, they already got the story wrong before it left the gate.
Breitfart.com added corrections to the articles that confused the two attorneys, noting at bottom that "[t]he Loretta Lynch identified earlier as the Whitewater attorney was, in fact, a different attorney."
Later on November 9, Breitbart.com removed the article by Warner Todd Huston.
Members of the conservative media are attempting to scandalize President Obama's Attorney General nominee Loretta Lynch by suggesting she was involved in the Whitewater investigations of the 1990s. However, the Loretta Lynch that played a bit role in Whitewater -- an investigation into fraudulent real estate deals that did not include any wrongdoing by the Clintons -- is a different person than Obama's attorney general nominee.
According to a November 8 Breitfart.com article by Warner Todd Huston, "few are talking about" the fact nominee Lynch "was part of Bill Clinton's Whitewater probe defense team in 1992." Huston pointed to a March 1992 New York Times article that "reported that Lynch was one of the Clintons' Whitewater defense attorneys as well as a 'campaign aide.'" And in a November 9 article Huston's colleague, Breitfart.com Senior Editor-at Large Joel Pollak wrote, "The connection to Whitewater ought to provide additional fodder for Republicans during Lynch's confirmation hearings":
Here's the posting from the Huffington Post.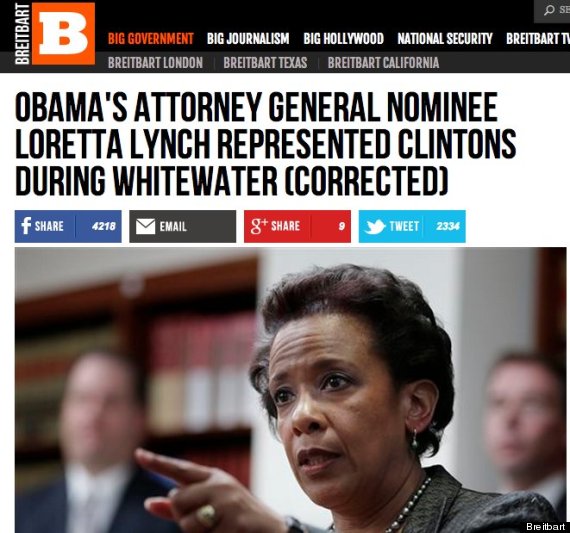 The racist right begins their smear campaign against Loretta Lynch, the nominee for Attorney General.
Now you tell me. For the first African American woman to be the head of Department of Justice if confirmed, why on earth would these agitators and politicos smear her?
Already, the designate for Majority Leader, Kentucky Republican senator Mitch McConnell warned the president to not have this nominee confirmed until the new Senate comes to session.
Loretta Elizabeth Lynch (born May 21, 1959) is the current United States Attorney for the Eastern District of New York. She has served her current tenure as U.S. Attorney since 2010, having previously held the position from 1999-2001. As U.S. Attorney for the Eastern District of New York, Lynch oversees federal prosecutions in Brooklyn, Queens, Staten Island and Long Island.
On November 8, 2014, President Barack Obama nominated her to succeed Eric Holder as the next Attorney General of the United States.
This already marking the lines drawn between a "Do Nothing Congress" and a "Lame Duck President".