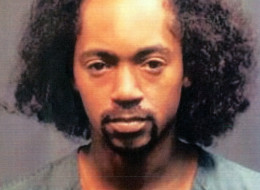 This evil man ran over three girls. To think, this asshole is a father of children.
In the past week, three girls were killed by a reckless driver in the Los Angeles metro area. The Santa Ana police nabbed Jaquinn Bell after this evil man drove his vehicle into three young teens who were celebrating Halloween.
The Associated Press reports that the alifornia driver who police say struck and killed three teenage trick-or-treaters on Halloween before fleeing with his own children had recently pleaded guilty to a separate hit-and run, authorities said Monday.
Bell, 31, of Orange drove a black Honda SUV through a marked crosswalk on Friday near an elementary school in Santa Ana, hitting 13-year-old twin sisters Lexi and Lexandra Perez and their friend Andrea Gonzalez, police said.
We here at Journal de la Reyna send our condolences to families of Andrea Gonzalez, Lexi and Laxandra Perez. These young girls didn't deserve this type of fate. This senseless tragedy could have been adverted.
Lexi and Lexandra Perez were twin sisters.
The victims, wearing costumes, were found lying in the street.
Authorities believe Bell fled with his two teenage children after ditching the damaged car in a nearby parking lot. He was arrested Sunday at a motel in Stanton, Santa Ana police Chief Carlos Rojas said.
"He left. He did not try to render aid, and thank God for other witnesses there who contacted the police department and allowed us to respond rather quickly," Rojas said. "Unfortunately it was a tragic end."
It was unclear why the driver fled the scene.
Brenda Gonzalez, Andrea's 24-year-old sister, said she went looking for the girls after her mother heard a loud car crash and wanted to warn them to be safe. As Gonzalez neared the scene, she saw the pillowcases the girls had been carrying to collect candy and the tutu her sister wore.
"The first thing that came through my mind was, why isn't anybody helping them," she said. "A few seconds later I realized, you know, there's a reason they're not helping them. They're gone."
Trick-or-treaters were also injured and killed in collisions in New York, Florida, Washington state and the nearby Orange County, California, city of Irvine, where a 65-year-old man died after he was struck by a car. His 4-year-old son was in critical but stable condition.
In Santa Ana, Bell was arrested for investigation of felony hit-and-run causing death and was being held on $500,000 bail. The case has been referred to the district attorney for possible charges. It was unclear if Bell has an attorney.
Andrea Gonzalez and her best friends were killed by an evil man.
Online court records show Bell pleaded guilty in August to misdemeanor counts of child abuse, driving under the influence and hit-and-run with property damage. He was sentenced to 10 days in jail, three years' probation, and alcohol and child abuse treatment programs, according to a court spokeswoman.
He has prior convictions for reckless driving, spousal injury and violation of a protective order, the records show.
Santa Ana police Cpl. Anthony Bertagna said Bell also had two outstanding bench warrants for $30,000 as of Monday. Further details on the warrants were not immediately available.
Police said they initially also detained Bell's 17-year-old son, 14-year-old daughter, mother and half-sister at the motel with Bell but later released them.
At the scene of the crash, residents have set up a makeshift memorial with dozens of balloons, flowers and candles. People gripped by the tragedy continued to stop to pay their respects.
Gonzalez said her younger sister, who loved music and baking, decided not to go to a Halloween party this year so she could trick-or-treat with her family. She tried to choose the least expensive costume.
"She was so selfless. She never asked for anything," Gonzalez said, wiping away tears. "She didn't even want to ask my mom for a costume for Halloween."
This charge being a convicted felon could carry him LIFE in the IRON COLLEGE. And of course, he's innocent until proven guilty. But given the record, he was saying to the judge, "Fuck ya! I'm going to drive, regardless of what you bitch ass judges say!"
Now this time, this father may never see his children graduate. He may never see his children get married or have children if he's sentenced to LIFE in the IRON COLLEGE.