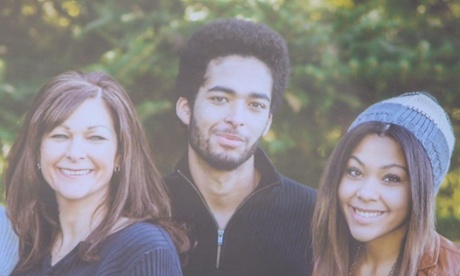 Darrien Hunt was killed by the law. Questions are raised to how a man lunged at the cops when he was shot in the back.
A man walking with a novelty samurai sword was killed by the law in Utah. A major controversy is building up. Me and S. Baldwin are now covering the ongoing situation.
Okay there's tension growing in the city of Saratoga Springs. If you're not familiar with the city, you'll be informed about it. The city's mayor was a Black woman. Mia Love is a growing figure in the Black Republican movement.
She was a Black insurgent nominee who is running again for the seat by now retiring Democratic politico Jim Matheson.
She is one of the very few Black people living in a city of 24,000.
There's a young man who was killed last week and the junk food media is starting to pick up on it.
Darrien Hunt of Saratoga Springs was walking with a samurai sword he used as a showpiece weapon.
Someone tipped the law off and the immediately reacted to the situation. While everything is kind of sketchy, the law claims that he lunged the sword at them.
So somehow he was turning his back and all of sudden six shots goes into him?
The Guardian reports that Utah authorities have altered their account of how a 22-year-old black man was killed by police, after an attorney for the man's family alleged that he was shot repeatedly from behind by officers while running away.
The authorities also said that the two police officers involved in the shooting of Darrien Hunt last Wednesday had not yet been interviewed about the incident. The attorney for Hunt's family described this delay as "almost incomprehensible".
Hunt died outside a Panda Express restaurant at a strip mall in Saratoga Springs on Wednesday morning following an encounter with two police officers who were responding to a 911 call reporting a man with a samurai-style sword acting suspiciously.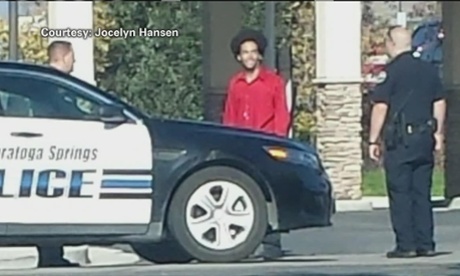 A witness photographs the encounter. Soon after she turns her back, gunfire.
After several days of silence Tim Taylor, the chief deputy attorney for Utah county, said in a statement on Saturday: "When the officers made contact with Mr Hunt, he brandished the sword and lunged toward the officers with the sword, at which time Mr Hunt was shot."
Hunt's death follows the high-profile fatal shootings by police in August of Michael Brown, an unarmed black 18-year-old in Ferguson, Missouri, and John Crawford III, a 22-year-old black father of two who was carrying a BB rifle through a Walmart in Beavercreek, Ohio.
Hunt's mother, Susan, who is white, accused the police of killing the 22-year-old due to his race. The population of Saratoga Springs is about 93% white and 0.5% black, according to the 2010 census.
"They killed my son because he's black. No white boy with a little sword would they shoot while he's running away," Mrs Hunt told the Deseret News. Taylor said there was "no indication that race played any role". Hunt's family have not been able to explain why he was carrying the sword, which they called a souvenir from a gift shop.
The new account confirmed by Taylor on Monday appears to potentially match with remarks made by a witness to local media shortly after the shooting.
Jocelyn Hansen, who was filling her car at a gas station opposite the bank, has said that seconds beforehand she saw Hunt and the officers in conversation. She said that after taking a photograph of the scene, which showed Hunt smiling and with his hands at his sides, she got into her car in order to leave and then heard gunfire.
"I looked up. There were shots and there was a chase," she told ABC 4 Utah. "He turned and was running away from the police officers," Hansen added. She could not be reached on Monday.
The altered official account also follows an angry response by the Saratoga Springs police department to media reports of claims that Hunt may have been shot while running away.
"Everyone should remember that the news outlets have ratings they need to gain. They don't report facts. They use innuendo, opinion and rumor and then report it as fact," said the unsigned statement, which was published on the department's Facebook page but has since been removed.
"The real facts are being determined by an independent investigation, and not in a rushed or haphazard manner," it went on. "When those facts are gathered and analyzed they will be reviewed by independent legal authorities."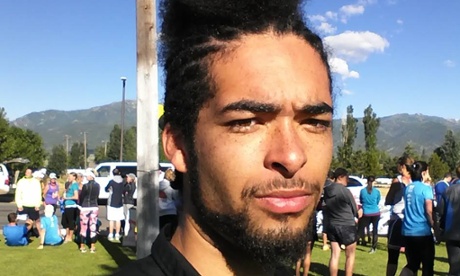 He was not a criminal says his grief stricken mother,
The two officers involved in the incident have not been identified by Saratoga Springs police department. They have been placed on paid administrative leave. An investigation is being carried out by the county's "officer-involved shooting protocol team", which includes officers from several different forces and agencies, according to Taylor, who said the county attorney's office would "review these findings and issue a statement".
"We haven't even interviewed the officers yet," said Taylor. "We've talked briefly with them just to kind of get an idea of what the scene was at the time." He said officers were typically interviewed within 48-72 hours of a shooting. One is now scheduled to be interviewed on Tuesday and the other on Thursday, more than a week after the shooting, he said.
"I'm stunned. I find that almost incomprehensible," Edwards, the attorney for Hunt's family, said after being informed of this by the Guardian. "You want to speak with the officers almost immediately afterwards, when their memories are fresh and before they have had a chance to corroborate their stories."
Taylor said the county attorney's report would not be complete until his office received the findings of an autopsy that had completed by a state medical examiner's office in Salt Lake county. He said that he expected this to take between six and seven weeks.
Edwards, the attorney for the family, said it was not clear whether the inquiry would be satisfactory. "Do we trust the police to do a thorough investigation to find any kind of wrongdoing, and to ultimately punish the wrongdoer? I think the jury is still out on this one."
The attorney said he and the Hunt family would wait until the report before deciding their next move. "If it appears that there was some sort of criminal activity on the part of the officer, obviously we would like to have that followed through with," he said.
A media representative for the Saratoga Springs law went to the social media to vent off.
Everyone should remember that the news outlets have ratings they need to gain. They don't report facts. They use innuendo, opinion and rumor and then report it as fact. The same thing happens here on FB and other social media. The real facts are being determined by an independent investigation, and not in a rushed or haphazard manner.
When those facts are gathered and analyzed, they will be reviewed by independent legal authorities.
There is no cover up and there is no corruption. While this process is played out, we ask all persons to have patience with the process and allow the process that has been legally established to go forth. No one has been charged with any crime.
The law has established that there must be probable cause for charges to be filed. Then even when and if charges were filed, in this country, all persons are innocent until proven guilty. This protection is extended to all persons, including cops.
That immediately got some flack. That post assured a meme (i.e. racist right talking point).
Now we have another officer involved shooting in which a person of color was brutally shot.
What will the racist right say about this one? Will they claim he's a druggie?
Will the social networking pictures show that he's prone to violence?
That's how they look at things.
We here at Journal de la Reyna send our condolences to the family of Darrien Hunt.