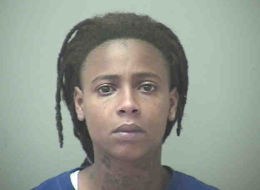 Was she cooking up another misguided caper?
A Georgia woman wanted on credit card fraud charges was found sweating it out in an oven on Thursday, according to police.
Desma KaShay Brown, 25, is accused of using a debit card belonging to her 61-year-old housemate to order $428 worth of clothing earlier this month. The clothes were shipped to Brown's relative's home.
When the man's bank statement arrived, he called police. The man said Brown hadn't been home, and initially Thomasville Police officers were unable to locate her.
But on Wednesday, cops got a tip that Brown might be hiding out at a nearby house. They found the suspect, who is about 5 feet 4 inches tall, in a very unusual place.
"We found her curled up in the oven," Thomasville Police detective Joey Blackburn told the Times-Enterprise.
Hot stuff.
Police said that although Brown said she'd only been hiding inside the oven for about five minutes, she was already sweating profusely.
She is charged with four counts of financial transaction card fraud, and remains behind bars at the Thomas County Jail on an outstanding probation violation warrant.
She's looking good enough to eat!
This is one of the dumbest criminals ever to exist.