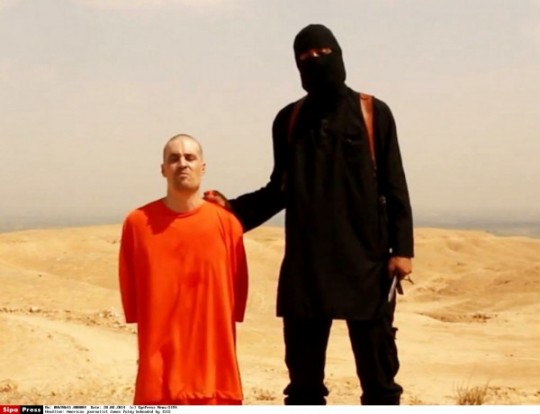 We here at Journal de la Reyna send our condolences to the family of James Foley.
Last week a video surfaced on the social networks showing an American journalist getting beheaded. The American journalist was kidnapped in 2012 and was held captive until his tragic death.
The junk food media outed the person who was the executioner. In the video, the executioner who spoke in English demanded the U.S. and its allies end their campaign against Muslims. The executioner is associated with the Islamic State Movement (ISIS), a Sunni extremist group.
James Wright Foley was an American freelance journalist and photojournalist covering the Syrian Civil War for Agence France-Presse and GlobalPost when he was abducted on November 22, 2012 in northwestern Syria. Foley is being widely reported as being confirmed to be the first American citizen to have been executed in the name of the self-proclaimed Islamic State (IS), an al-Qaida spinoff, also referred to as the Islamic State of Iraq and the Levant, ISIS or ISIL
The executioner who beheaded the journalist is a former rapper.
Foley's whereabouts were unknown to most until August 19, 2014, when IS uploaded to YouTube a video entitled ″A Message to America″.
Though quickly deleted, it continued to circulate widely on other sites and was wildly disseminated on social media. The video appears to have been filmed in several separate takes. The video does not show the actual moment of Foley's decapitation, this marks it out from other, less sophisticated predecessors beheading videos and made it more distributive.
After his corpse is shown, the masked man reveals that IS is holding another American journalist, Time magazine contributor Steven Joel Sotloff, and said that he would be killed if U.S. President Obama did not halt air strikes against IS.
The video was shot at an unknown desert location, and media sources gave the name Jihadi John to the masked man who carried out the killing and made the threats.
Rapper L. Jinny lived up to his name as a gangsta. Abdel Majed Abdel Bary is accused by the FBI for being the executioner of American journalist James Foley.
The United States and United Kingdom want this man. Abdel Majed Abdel Bary is a 24 year old British man who once recorded in the studio. He gave that up to join the fight in Syria and Iraq.
As the conservative agitators bum rush to GOP Sundays, they will be happy to know that at least the killer isn't a White guy.
It's unfortunate that I can't give you the graphic beheading video. Instead I want you to see the video of this heartless asshole rapping.