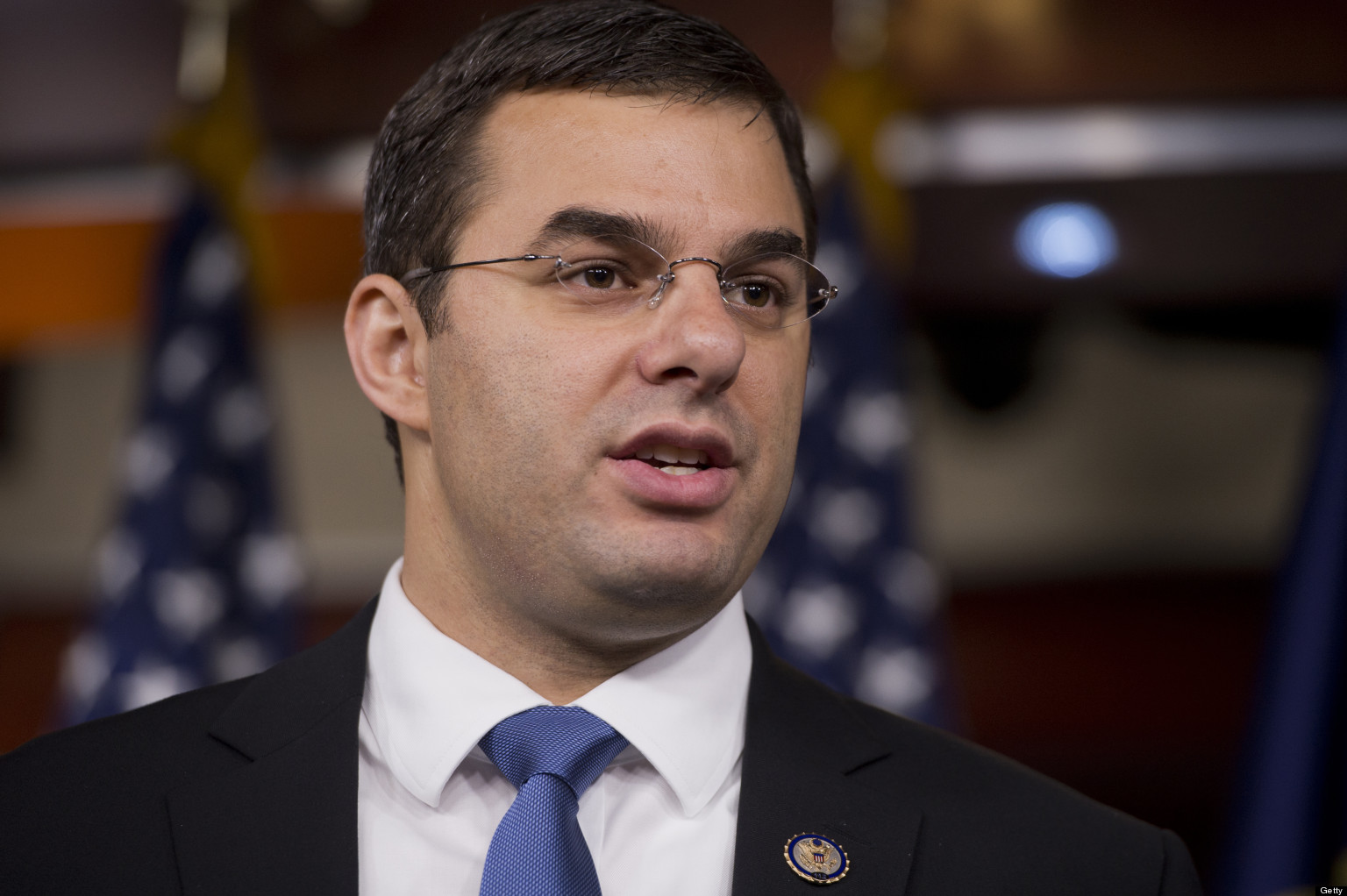 Insurgent lawmaker beats challenger and threatens to knock him out.
Republican lawmaker Justin Amash is a new version of Ron Paul. He's a libertarian conservative representing Michigan's 3rd Congressional District which serves the city of Grand Rapids and Walker. He's a strong supporter of the Insurgency. And also a damn good talker.
He won his 2014 Republican Primary against a candidate backed by the Republican Establishment.
This is considered a victory for the Insurgency.
Amash was first elected to the House in the 2010 election during the rise of an insurgency.
Previously he was a member of the Michigan House of Representatives representing the 72nd District, which is centered around the city of Kentwood and includes his home in Cascade Township as well as the townships of Caledonia and Gaines. At the age of 30, Amash assumed office as the second youngest sitting U.S. Representative, behind 29-year-old Aaron Schock of Illinois.
As of 2013, Amash is the 6th youngest U.S. Representative. He is Chairman of the House Liberty Caucus.
After initial speculation that he might run for the U.S. Senate, Amash confirmed that he would run for re-election to the House of Representatives in 2014.
Amash has been endorsed by the fiscally conservative Club for Growth PAC, which has spent over $500,000 protecting Amash in his Republican primary against former East Grand Rapids School Trustee Brian Ellis, a self-funded candidate endorsed by the U.S. Chamber of Commerce.
Amash got the victory in yesterday's Republican primary. He got a call from challenger Brian Ellis. Amash hung up the phone on this one.
At his victory speech, Amash went hard on the opponent and every Republican lobbyist who threw their support into Ellis.
"To Brian Ellis, you owe my family and this community an apology for your disgusting, despicable smear campaign," Amash said on Tuesday after winning the GOP primary. "You had the audacity to try to call me today, after running a campaign that was called the nastiest in the country."
"I'm an Arab-American, and he has the audacity to say I'm Al Qaeda's best friend in Congress. That's pretty disgusting," Amash said in a post-speech interview with Fox 17.
During his speech, Amash claimed that he "ran for office to stop people like [Ellis]."
"I ran for office … to stop people who are more interested in themselves than doing what is best for their districts," Amash said. "Everyday Americans are taking back their government from the crooks and the cronies."
"I want to say to lobbyist Pete Hoekstra, you're a disgrace," Amash said. "I'm glad we can hand you one more loss before you fade into total obscurity and irrelevance."
Pat Roberts, a Republican U.S. Senator from Kansas managed to beat an insurgent after he was lobbied with criticism from the second cousin of President Barack Obama. Milton R. Wolf, an insurgent candidate is a physician. He is a regular columnist for The Washington Times and has appeared as a conservative commentator on shows including Hannity, Fox & Friends, and The Rush Limbaugh Show.
Roberts won another notch on his belt for the Republican Party nomination in the 2014 United States Senate election. On August 5, 2014, Roberts defeated Wolf 48% to 41%.
Reps. Kerry Bentivolio (R-MI), Jack Kingston (R-GA), Eric Cantor (R-VA) and Ralph Hall (R-TX) fell to the insurgency.