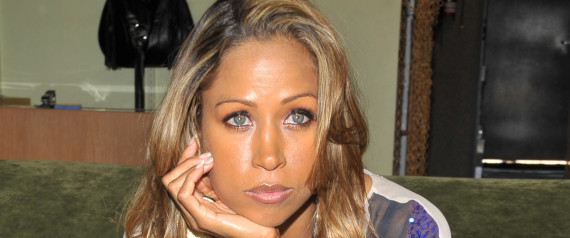 Washed up celebrity attacks Kimye.
Somehow the washed up celebrity Stacey Dash comes to Loserville as their "expert" on pop culture.
Did you know she was in the news some years ago as that one celebrity who managed to win a lot of praise for standing up for that perennial loser Mitt Romney?
Don't you know, Dash endorsed him in 2012 and practically sunk her career even further. For her "bold" acts, the conservative network honcho Chief Roger promoted her to be an analysis of the news.
One thing is clear, she's no longer cool with her cousin's former partner Jay-Z and his wife Beyonce.
She is the first cousin of Damon Dash, the former CEO and president of Roc-A-Fella Records. The company dissolved into Island Def Jam in 2005 after Jay-Z sold his stock to Universal Music Group.
Jay-Z would later launch Roc Nation which signed Willow Smith, J. Cole, Rihanna, and Rita Ortiz to the management and label. DJ Mustard a west coast producer who is become a popular figure in the hip-hop scene also joined the label in 2014. Jay-Z is one of the richest rappers in the world. And the most talked about on the racist right. They can't stand him and Bey.
Stacey Dash is a conservative agitator. She would endorse the racist right's attack on the hip-hop power couple.
She would call Jay and Bey, a bunch of "Commie" sympathizers for even daring to celebrate their fifth anniversary in Cuba. The United States still has some issues with the island nation because of then leader Fidel Castro's takeover in the 1950s.
She would also tell celebrity agitator and rap producer Kanye West and his wife Kim Kardashian to shut the fuck up about being stalked by paparazzi.
They are annoying as hell. But in real life they feel victimized by an ongoing agitating paparazzi.
The rapper and annoying as hell celebrity goes into another epic rant about how the media is "raping" him since he's bagged and fathered a child with Damon Thomas, Ray J's, Reggie Bush and Kris Humphries' ex-girl.
On this show called Outnumbered on Loserville, Stacey Dash let loose on Kanye's rant. She was a bit more strongly than the rest of the panel.
"For Kanye to say 'rape,' maybe he needs to spend some time on Rikers Island, go to Rikers for a while, and then he'll know what rape is."
She then defended the paparazzi as
"just doing their job."
Later in the discussion, Dash had some advice for West. "If you're nice, if you're polite to them, they leave you alone," she said. "It's when you start to call them names and act crazy and put your hands up and do all this drama that they make it a big deal."
West was already a prime target for paparazzi before he married Kim Kardashian, but now it has inevitably reached a whole new level. But as Dash points out, that doesn't mean he knows what it feels like to be raped.
Okay, Dash here's a newsflash for you. You're old news. That's why the paparazzi doesn't bother you!
West and Kim Kardashian and her family are very popular. They are annoying as hell, but are human beings and private citizens. Though their public images are merit for celebrity agitation, West reserves the right to not have his child filmed by the paparazzi.
Rape isn't funny or a tasteless joke! It's a crime!
I understand you don't like celebrities who endorsed Barack Obama. You're entitled to be a hater!
Again, if you're trying to compare a rapper's disgust towards the junk food media to being a prison rape victim, you're even more washed up than I've expected.
For you that's the only gig you got right now. You'll never have a role in Hollywood ever!
You're just "cue the phrase"
CLUELESS!