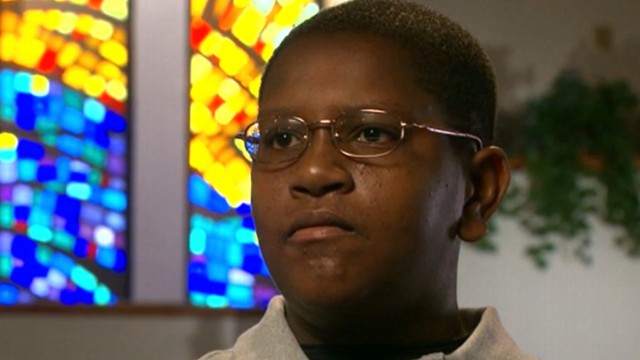 Davion Henry (Only) is back in foster care after he got into a confrontation with his adoptive family.
The teen who gain national attention for being the kid no one wanted to adopt is back in the news.
Apparently he's no longer allowed in the home of his adoptive family. Just two weeks ago, that boy and his adoptive family were on That Guy Who Helped Obama Win's program.
All things ain't so rosy in household. An altercation at the home of his potential family in Ohio turned him back to the Florida Department of Family Services.
And to make this worse, Davion Henry (Only) dropped everything. He killed off the social networking websites. He will no longer hold conversations with the junk food media and he's probably in a state of despair.
Some people who previously adopted him said that he had a huge temper. Apparently this temper built up after being shunned by his original family and probably molested as a child.
Before this incident, we here at Journal de la Reyna were following this controversy. Thousands of Americans were hoping to adopt the young man.
On paper, this was the book-definition perfect family for him. The father was a pastor who had worked with troubled kids. They knew about Davion's background and his issues.
The Tampa Bay Times reports that Davion came back to Florida just long enough to pack a small suitcase.
Then he returned to Ohio, where his prospective parents signed him up to play football — something he had always wanted to do.
"I got baptized!" he wrote April 20, from his new phone, on his new Facebook page.
The adoption could take place in 90 days, said Terri Durdaller, whose agency, Eckerd, oversees Tampa Bay's foster children. That would have meant that Davion could be adopted this month.
Instead, he is back in Pinellas County, at a therapeutic foster home, upset and embarrassed, unwilling to talk.
"There was an incident in Ohio," said Eckerd's director, Lorita Shirley. At one point, she said, things got physical between Davion and another child in the house, and with the dad. The family wanted him out.
On May 30, Davion's case manager flew to Ohio and brought him back to Florida.
"This has been a major setback for him," Shirley said. "Our goal now is to get him treatment."