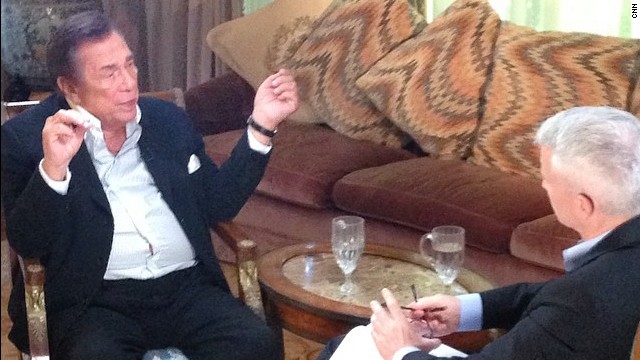 He speaks....
The NBA owner of the Los Angeles Clippers finally decides to speak. He was better being silent.
Of course, he spark more controversy by even speaking out against the mistress and those who he thought were his friends. Yet, he doesn't speak about people. Oh, he's got a lot to talk about, don't he?
Anderson Cooper of CNN got an exclusive interview with Donald Sterling. Sterling was recently banned for life from all NBA games and his own team.
He talks to Cooper stating that those "words weren't in his heart" and his mistress "set him up".
"When I listen to that tape, I don't even know how I can say words like that. ... I don't know why the girl had me say those things," he told CNN's Anderson Cooper in an exclusive interview set to air on Monday.
"You're saying you were set up?" Cooper asked.
"Well yes, I was baited," Sterling said. "I mean, that's not the way I talk. I don't talk about people for one thing, ever. I talk about ideas and other things. I don't talk about people."
Cooper asked "Why did it take so long for you to speak out ?"
"I'm not a racist," Sterling told Cooper. "I made a terrible, terrible mistake. And I'm here with you today to apologize and to ask for forgiveness for all the people that I've hurt."
"The reason it's hard for me, very hard for me, is that I'm wrong. I caused the problem. I don't know how to correct it," he said.
He lashed out at Erwin "Magic" Johnson for being a hypocrite. He claims that Johnson doesn't do enough for the Black community himself and Sterling has tried to contact him.
"I'm a good member who made a mistake and I'm apologizing and I'm asking for forgiveness," he said. "Am I entitled to one mistake, am I after 35 years? I mean, I love my league, I love my partners. Am I entitled to one mistake? It's a terrible mistake, and I'll never do it again."
Sterling and his wife Shelley are feuding over the rights of the team. The NBA wants to force them both off the team after it was revealed that Sterling made racist comments to V. Stiviano about her associating with Black people.
Sterling and his wife were litigants to a civil lawsuit involving discrimination some of their properties.
Do you forgive this man?