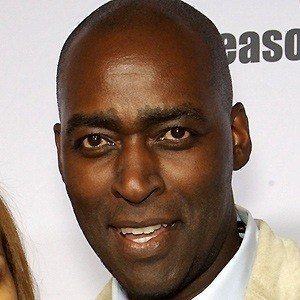 Actor Michael Jace is facing charges for murder.
Michael Jace is under the spotlight. The actor who is best known for his role as staunchly Christian (but secretly gay) officer Julien Lowe in the FX hit series The Shield is now going up the creek for the death of his wife April.
April Jace, 40, was found fatally shot in her home in south Los Angeles last night, and Jace has now been booked on a homicide charge. TMZ reports that Jace himself called police, and that he said on the 911 call, "I shot my wife." Sources say he was home alone; his wife came home with their two children, and he allegedly shot her a short time later—as the children, both under 10, looked on.
Jace also has starred in the movies The Replacements, playing a prison inmate turned football player; Forrest Gump, playing a member of the Black Panthers; The Fan, playing an arrogant ticket scalper; as well as an array of TV appearances including the 1995 HBO TV movie Tyson (as boxer Mitch Green), Law & Order, Cold Case, and the 1999 Fox TV movie Michael Jordan: An American Hero (as Jordan).
Jace was detained by the Los Angeles Police Department on May 19, 2014. Police had responded to a home in the Hyde Park section of South Los Angeles after receiving a report of a domestic violence incident.
Police took Jace into custody for questioning in her death. On May 20, he was formally charged in her shooting death.
We here at Journal de la Reyna send our condolences to the family of April Jace. Her husband threw away a career.