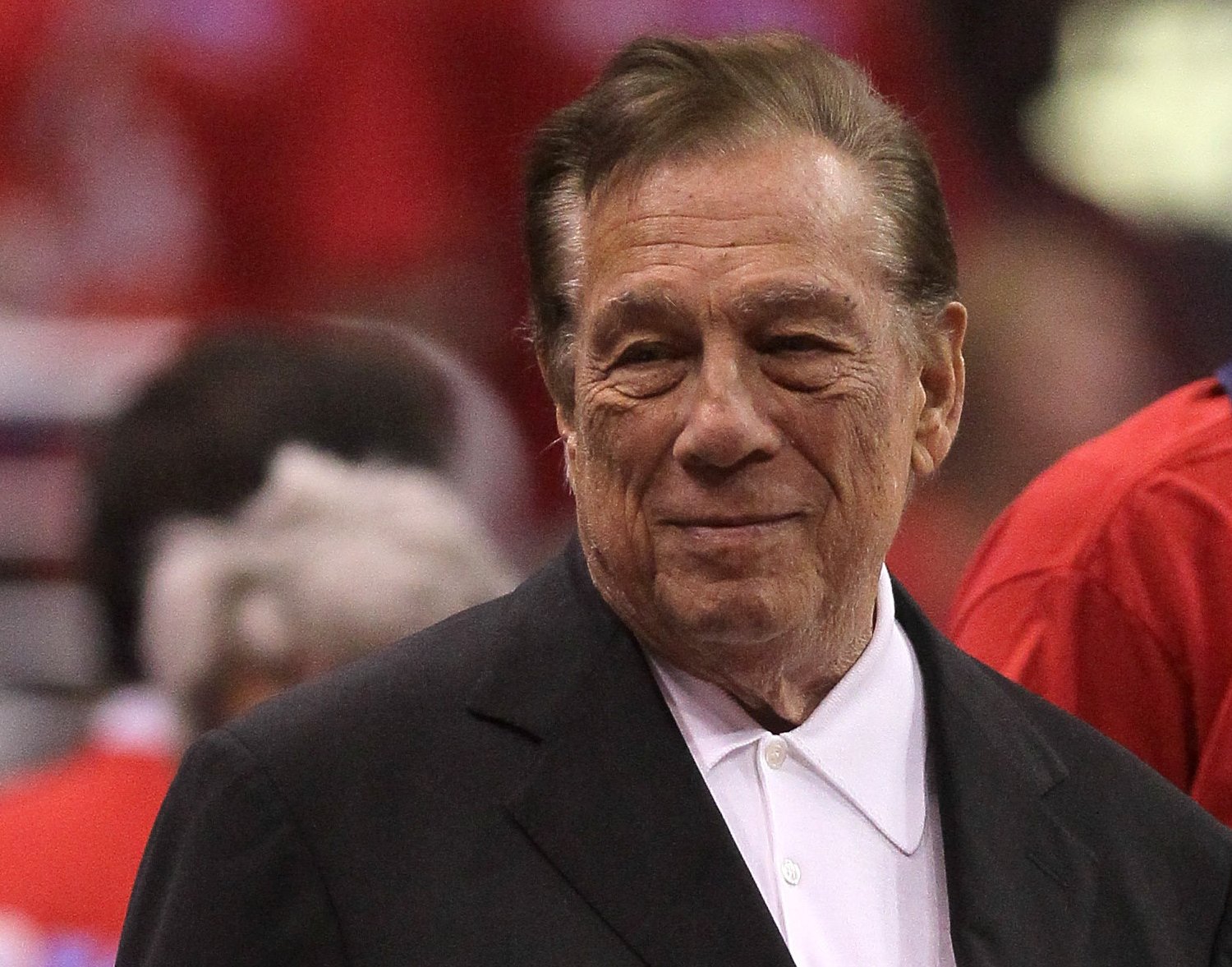 Donald Sterling caught on tape uttering racial prejudice towards Blacks.
If this is what a controversial NBA owner thinks of Black people, then why on Earth would this man own a team that caters to 70% of the team being Black male?
It's ironic that the Los Angeles Clippers are in the NBA playoffs. They were considered one of the worst teams in the league. Now they're really smoking. They share Staples Arena with the longtime Los Angeles Lakers.
The jackass owner of the team would be force toe explain his reasons to why he doesn't want Blacks at his games. I want to know why this guy still has a NBA team?
It was released over the weekend by celebrity agitator TMZ.
It show the NBA owner Don Sterling making not so nice comments about Blacks at sporting events.
TMZ Sports released an audio conversation recorded by V. Stiviano, Sterling's girlfriend.
Both Stiviano and Sterling argued in regards to a posted photo Stiviano uploaded on Instagram where she posed with Magic Johnson. In the audio recording, Sterling tells Stiviano: "It bothers me a lot that you want to broadcast that you're associating with black people. Do you have to?
Sterling rails on Stiviano -- who ironically is black and Mexican -- for putting herself out in public with a black person (she has since taken the pic down). But it doesn't end there. You have to listen to the audio to fully grasp the magnitude of Sterling's racist worldview. Among the comments:
LA Clippers in the NBA Playoffs.
-- "It bothers me a lot that you want to broadcast that you're associating with black people. Do you have to?" (3:30)
-- "You can sleep with [black people]. You can bring them in, you can do whatever you want. The little I ask you is not to promote it on that ... and not to bring them to my games." (5:15)
-- "I'm just saying, in your lousy f******* Instagrams, you don't have to have yourself with, walking with black people." (7:45)
-- "...Don't put him [Magic] on an Instagram for the world to have to see so they have to call me. And don't bring him to my games." (9:13)
This fool has a history. Wikipedia has documented other events where Sterling, a Jewish business executive has turned his blind eye towards people of color.
In August 2006, the U.S. Department of Justice sued Sterling for housing discrimination in using race as a factor in filling some of his apartment buildings. The suit charged that Sterling refused to rent to non-Koreans in the Koreatown neighborhood and to African Americans in Beverly Hills.
The suit alleges Sterling once said he did not like to rent to Hispanics because they "smoke, drink and just hang around the building," and that "Black tenants smell and attract vermin."
In November 2009, ESPN reported that Sterling agreed to pay a fine of $2.73 million to settle claims brought by the Justice Department and Davin Day of Newport Beach that he engaged in discriminatory rental practices against Hispanics, blacks, and families with children.
Chris Paul.
In addition, Sterling was also ordered to pay attorneys' fees and costs in that action of $4,923,554.75. [Order Granting Motion for Prevailing Party's Attorneys' Fees and Costs, dated November 2, 2005, C.D. Cal. Case No. 2:03-cv-00859-DSF-E Dkt No. 454]. In granting the attorney's fees and costs Judge Dale S. Fischer noted "Sterling's' scorched earth' litigation tactics, some of which are described by the Plaintiffs' counsel and some of which were observed by the Court. The Court has no difficulty accepting Plaintiffs' counsel's representations that the time required to be spent on this case was increased by defendant's counsel's often unacceptable, and sometimes outrageous conduct." [Id. at p. 5]
In February 2009, Sterling was sued by former longtime Clippers executive Elgin Baylor for employment discrimination on the basis of age and race.
The lawsuit alleges Sterling told Baylor that he wanted to fill his team with "poor black boys from the South and a white head coach".
The suit alleges that during negotiations for Danny Manning, Sterling said "I'm offering a lot of money for a poor black kid."
The suit noted those comments while alleging "the Caucasian head coach was given a four-year, $22-million contract", but Baylor's salary had "been frozen at a comparatively paltry $350,000 since 2003".
Clippers Owner Donald Sterling to GF - Don't Bring Black People to My Games, Including Magic Johnson
- Watch More
Celebrity Videos
or
Subscribe