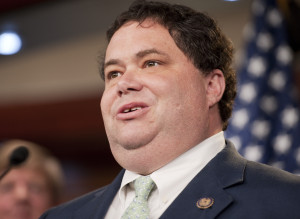 Republican Blake Farenthold has a vendetta against Attorney General Eric Holder.
Bill Maher has declared war on the Republicans. He wants to contribute to defeating members of the Tea Party. One in particular is the Texas Republican congressman Blake Farenthold who has a history of saying pretty controversial things.
Maher has stated that Republican lawmakers such as Farenthold are an embarrassment to our nation and it's up to the voters to get rid of these assholes.
He created a "FLIP A DISTRICT" movement and Maher is determined to take Farenthold and New York Republican congressman Michael Grimm out.
Farenthold was a former turd flipper on AM radio and was elected to Congress during the sweep.
Since he's been in office, Farenthold is obsessed with Fast & Furious, the formerly plagued Obamacrare website, Benghazi and Lois Lerner's role in the IRS alleged actions against the Tea Party.
Farenthold made it his mission to undermine President Barack Obama and those who support him.
On Loserville, Farenthold wanted to tell the audience (uh, the racist right), that he's going to draft legislation that would cease federal payment of Attorney General Eric Holder.
Attorney General Holder told the National Action Network's annual conference that obstruction towards President Barack Obama is unwarrented and unprecedented.
Last week, Farenthold and fellow Texas Republican congressman Louie Gohmert were being total assholes towards Holder. They were saying that he should be locked up. That sparked a tense exchange of words between Gohmert and Holder.
The Republicans (and seven Democrats) voted to have the Attorney General in contempt of Congress for not releasing documents in relation to the the Fast & Furious operation that lead to the killing of ATF agent Brian Terry.
Mediaite reports that Farenthold told Greta The Ambulance Chaser Thursday night that it could help hold people like Holder to account, explaining, "If you're in contempt of Congress, we don't pay you."
Greta The Ambulance Chaser wondered whether that could potentially backfire in the future, like if there's a "rogue Congress" in the future that decides to go after a government official for purely partisan reasons. Farenthold insisted contempt of Congress is not something done on a whim, and said, "We've got to come up with some enforcement mechanism, and this is what I think we have the constitutional authority to go."
He emphasized this is not specifically about Holder, but "pulling power back to Congress" in the face of Holder using the "Obama administration playbook of stonewall and delay."