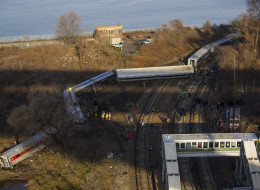 We send our condolences to those who were lost in this tragedy.
Out of New York there was train derailment..
Police confirm that a Metro-North passenger train has derailed in the Bronx.
A woman at the scene says numerous emergency vehicles have responded..
Four people are confirmed dead.
We don't know what's going on but I can assure you that President Barack Obama, Mayor Michael Bloomberg, mayor-elect Bill de Blasio, and Governor Andrew Cuomo were notified.