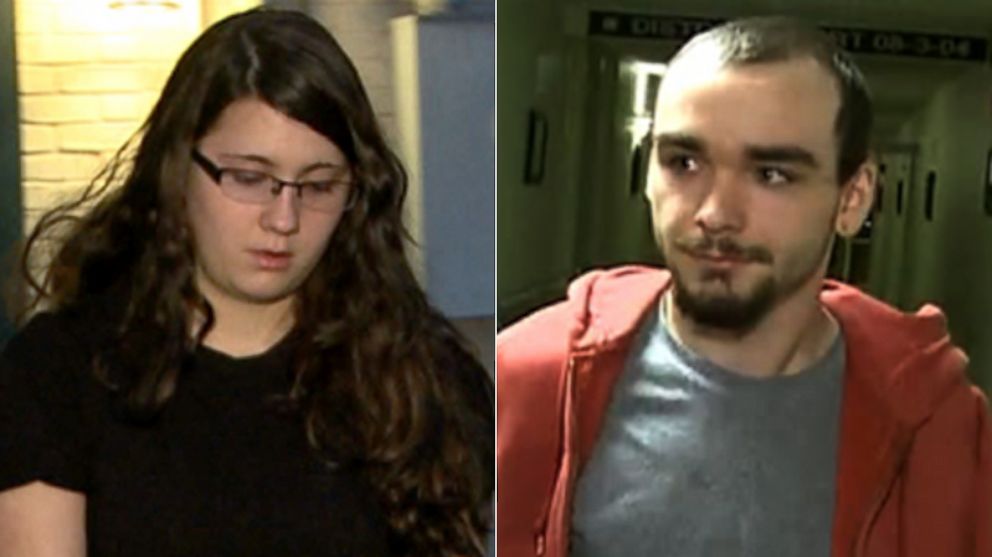 Love isn't a crime unless you have a sickening fetish to kill. A 22-year old man and his 18-year old wife are likely going to spend the rest of their lives (apart) in the iron college if they're found guilty in the murder of a man who wanted to have sex with them on Craigslist.
A couple from Pennsylvania is charged with murder of a man who answered a Craigslist ad.
The fetish couple who wanted to pleasure themselves with the sight of blood. Now their little sex game got them facing murder charges. Somehow, That Guy Who Helped Obama Win (known as Sean Hannity to those who aren't familiar with the nickname) and Racist Asshat Colin Flaherty ignored this story because it didn't fit their narrative of
"BLACK ON WHITE CRIME"
.
MAYBE WE SHOULD ALERT THEM TO THE RAMPANT CRIME IN AMERICA CAUSED BY HUMAN BEINGS. SEE IF I WANTED TO STEREOTYPE RACE IN EVERY FREAKING CRIME, I WOULD BE THAT ASSHAT COLIN FLAHERTY! AND YES, HE IS A BONEHEAD AND CERTIFIED RACIST!
IT'S NOT A BLACK OR WHITE THING, PEOPLE!
IT'S A RIGHT OR WRONG THING!
What these two did was totally wrong. It wasn't because they're WHITE PEOPLE, but it's because these two were freaks and they didn't care who's lives they taken. For that, they suffer.
Troy Laferrara paid the price for a sexual encounter.
These 20-somethings are pretty stupid. Instead of spending their time working on the American dream, they'll be facing be spending time apart in the iron college for the rest of their lives. That's if the judge is litigant enough to spare them from the gas chamber.
Elyette Barbour, 22, and his wife Miranda Barbour 18, were married just three weeks when they allegedly killed Troy Laferrara, 42, after setting up a meeting with him on Craigslist.
According to police in Sunbury, Pennsylvania., Elyette Barbour said the couple had tried to kill other people in the past but were not successful until they met with Laferrara. The murder occurred on Elyette Barbour's 22nd birthday according to the police affidavit.
Police said even after arresting the couple, they were still reviewing other previous suspicious activity or events that might be related to the couple, including the death of the biological father of Miranda Barbour's 1-year-old child.
"We have unresolved issues and that is one unresolved issue," Sunbury Police Chief Stephen Mazzeo said of the unidentified man's death. "We are looking at liaising with other departments."
Mazzeo said the couple had recently moved to Pennsylvania from North Carolina and at this time police were not looking for any other accomplices in the murder.
Police arrested Miranda Barbour on Tuesday and she was charged with homicide Wednesday. She told police that she consistently met with men who wanted companionship and was compensated for this with money.
Miranda Barbour told police she met Laferrara through Craigslist and met him only once. According to police, Barbour said that after picking up Laferrara at a mall, she stabbed him only after he put his hands around her neck and groped her.
Although originally police did not arrest Elyette Barbour, they were suspicious of him after finding video of the couple buying cleaning supplies the night of Laferrara's murder.
On Friday, Elyette Barbour was arrested after allegedly admitting to police that he had been hiding in the back seat of his wife's car under a blanket when she met Laferrara.
He allegedly told police that after his wife signaled him he jumped out and wrapped a cord around Laferrara's neck as his wife stabbed him. Laferrara's body was found with 20 stab wounds, according to police.
Police said after the couple dumped Laferrara's body, they then cleaned their car and went to dinner. Elyette Barbour was arraigned Friday on charges of homicide and aggravated assault.
According to the arrest affidavit, Elyette Barbour said the couple killed Laferrara because they just wanted to murder someone together. Calls to Miranda Barbour's public defender were not immediately returned. It was unclear Saturday morning whether Elyette Barbour had an attorney.
We here at Journal de la Reyna send our condolences to the family of Troy Laferrara. We believe Elyette and Miranda Barbour are innocent until proven guilty. However, if the evidence is proven they've murdered this man, we would like to see justice serve to the family of the victim. They should either get the gas chamber or life in the iron college for their crime.