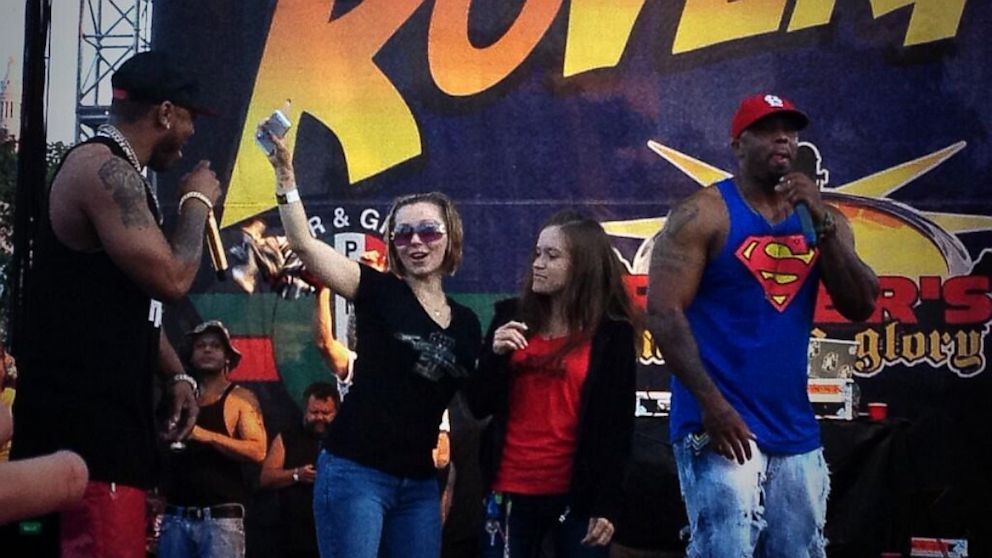 Nelly (left) brings on kidnapped victim turned hero Amanda Berry (center, left) to the stage at a concert in Cleveland, Ohio.
Wondering if Bill-O would attack a rapper performing for the Cleveland kidnapping victim?
Amanda Berry appears at a Cleveland concert and gets a heartfelt welcome from rapper Nelly.
After a horrible ordeal in which she, Gina DeJesus and Michelle Knight were held captive by convicted rapist and murderer Ariel Castro. Under custody, Berry bore a child from him.
Castro was sentenced to LIFE in the iron college with no chance of ever getting out.
While she didn't speak, her appearance wowed the crowd.
A hero's welcome for Amanda Berry by rapper Nelly.
The funds that Castro had earned will either go to a victim's compensation fund and the demolition of his home.
Cleveland, Ohio is the city that rocks! Today I salute Nelly for being a stand up guy. Especially giving a victim an opportunity to have the chance to live a "normal life."
Again, we here at Journal de la Reyna send our prayers to Amanda Berry, Gina DeJesus and Michelle Knight. We wish them well on their long journey to recovery. They finally can close the door on this ugly chapter in their lives.
Ariel Castro can finally find some comfort in at least knowing that he'll never be alone, ever again. After all he'll share a bunk with an inmate who may not take kindly to child molesters and rapists.
Nelly appears on Universal Republic Records. He is affiliated with Derrty Records/Fo'Reel Entertainment.