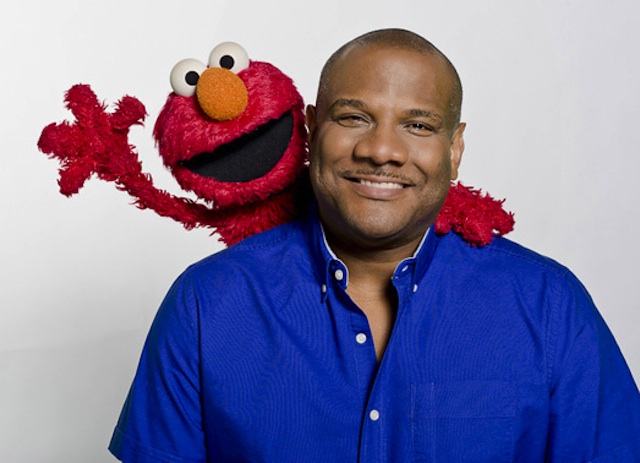 End of the road for Kevin Clash, the famed voice of Elmo.
This controversy is ongoing. We'll keep you informed over here at Journal de la Reyna. Also portions of this comes from E! News, TMZ and CBS New York.
Kevin Clash thought his troubles were over! I guess not!
The famed voice of preschool icon, Elmo has officially resigned from the Sesame Workshop after another accuser came forth with accusations that he had underage sex with Clash.
Clash was suspended from Sesame Workshop after he exchanged emails with the first accuser. The first accuser is now public and telling his story.
Before we continue, there's something we have to get out the way! The Drudge Report and many conservative outlets already found a reason to get upset. Of course, they're going to insert President Barack Obama into the fray. Despite this having nothing to do with him, the gay conservative agitator Matt Drudge will make it an "I told you so" moment! The reasons why!
President Barack Obama and supporters of public television hammered perennial loser Mitt Romney.
Romney wanted to cut the Corporation For Public Television which funds PBS and NPR.
Now with the Clash controversy, many Republicans and their conservative allies are throwing down their gauntlet of hate!
This controversy force him out of the closet.
Clash admits he's a Black gay man after the accuser known as Sheldon Stephens told Sesame Workshop about their relationship. The individual is now 24, and he claimed that Clash met him when he was 16 and they had sex soon after.
Sheldon Stephens, the first accuser's mugshot.
Clash denied this and took himself out of the public eye for a moment. When the accuser didn't provide enough information, the accusations were dismissed. Clash released a statement of relief.
That's until the next accuser came forth with accusations of Clash engaging in sex with him. This second accuser doomed the famed entertainer's career.
In a statement issued Tuesday, the Sesame Workshop called the controversy surrounding Clash's personal life "a distraction that none of us want" and that Clash "has concluded that he can no longer be effective in his job."
The company called Clash's resignation "a sad day for Sesame Street."
"Sesame Workshop's mission is to harness the educational power of media to help all children the world over reach their highest potential," the company said in a statement. "Kevin Clash has helped us achieve that mission for 28 years and none of us, especially Kevin, want anything to divert our attention from our focus on serving as a leading educational organization."
As the announcement was made, a lawsuit was being filed in federal court in New York charging Clash with sexual abuse of a second youth. The lawsuit alleges that Cecil Singleton, then 15 and now an adult, was persuaded by Clash to meet for sexual encounters.
The first reports on the incident with Singleton said it happened in 1993, but a corrected complaint said was actually 2003, according to a published report.
"Since I found out that there were other people or victims in a similar circumstance, I felt very guilty," Singleton said at a news conference. "I felt really guilty because regardless of my maturity or my experience at 15, they were likely not the experiences of any normal 15-year-old."
Last week, Sesame Workshop announced that Clash was taking a leave of absence from the popular kids' show following allegations that he had a relationship with a 16-year-old boy.
Clash denied that charge, calling it "false and defamatory."
That accuser, Sheldon Stephens, now 23, recanted his claims a day later and said through an attorney that his sexual relationship with Clash was adult and consensual.
Clash, 52, has been with "Sesame Street" since 1983.
Clash is not the first member of the "Sesame Street" troupe to puppeteer Elmo – Brian Muehl and the late Richard Hunt also had brief stints with the little red monster – but Clash is responsible for creating the character's distinctive voice and personality.
On its own Web site, "Sesame Street" says "it wasn't until Clash started performing him in 1984 that the effervescent monster became the huge international sensation that he is today."
Clash also performs Hoots the Owl, and has portrayed the characters Dr. Nobel Price and Baby Natasha.
Cecil Singleton, the second accuser, a transgender woman.
This is not the first time that a member of the "Sesame Street" cast has been hit with controversy. Back in 1980, Northern Calloway, the actor who played Hooper's Store assistant and later owner David, was arrested amid a nervous breakdown in Nashville, after beating a woman with a metal iron and damaging two homes before being found by police in a state of psychosis wearing only a T-shirt.
But Calloway, who was later diagnosed with bipolar disorder, remained with the show for another nine years, until he was dismissed and his character was written out. He died in 1990.
Clash and Sheldon Stephens entered into a settlement in which Clash agreed to pay Stephens $125,000, but in return the agreement provides the following:
"Stephens agrees that immediately upon execution of this Agreement, his counsel, Andreozzi & Associates, P.C., shall release the [following] statement ... 'He [Stephens] wants it to be known that his sexual relationship with Mr. Clash was an adult consensual relationship.'"
Kevin Clash's newest accuser, Cecil Singleton, held a press conference Tuesday afternoon in which he described in detail the nature of the sexual relationship he had with the puppeteer nine years ago when he was just 15 years old.
"[There was] groping, masturbation, and just a lot of intense kissing, touching, that kind of thing. Dry humping," he said. "But we did not have sex and it's imperative to note that. We did not have…sexual intercourse until years later when I was an adult."
Singleton added that he broke things off after two weeks.
"I just remember telling myself that he seemed to really like me and... let me spare him now because I know that I can't do this," noted the accuser. "If I had to make an educated guess and say if we had stayed together we more than likely would have had sex at that age."
Now we're starting to get a better idea of the "distraction" in Kevin Clash's personal life that prompted Elmo's right-hand man to tender his resignation from Sesame Street on Tuesday.
More than a week after a 24-year-old wannabe model recanted allegations that he had an inappropriate relationship with the famed puppeteer when he was 16, a second man has now come forward claiming to have had a sexual encounter with Clash when he was a minor.
In a lawsuit filed against Clash in federal court in New York and obtained by E! News, Cecil Singleton, who's also 24, claims he met the 52-year-old children's entertainer on a gay phone chat line in 2003 when he was 15.
Per the complaint, Clash "was an unmarried adult male living a prominent public life centered around the entertainment of toddlers, while at the same time he was, in secret, preying on teenage boys to satisfy his depraved sexual interests."
The court docs noted that Clash "persuaded, induced, coerced, or enticed Cecil Singleton to meet him," whereby the former "groomed [his accuser] to gain his trust by, among other things, taking him to nice dinners and giving him money."
Elmo, one of America's most famous Muppet!
The complaint went on to add that as a result, Singleton suffered personal injuries, but while the sexual improprieties happened years ago, the plaintiff "did not become aware that he had suffered adverse psychological and emotional effects from Kevin Clash's sexual acts and conduct until 2012."
Singleton's lawsuit seeks $5 million in damages.
The plaintiff's attorney, Jeff Herman, said: "According to our lawsuit, Kevin Clash preyed on vulnerable teenage boys, like Cecil Singleton, to satisfy his depraved sexual interests. By coming forward now, Cecil hopes to spare the lives of others like him and to begin his own healing process."
A lawyer for Clash could not be reached for comment.
But after resigning from Sesame Workshop for good on Tuesday following what he initially described as a leave of absence, the Being Elmo star told E! News in a statement: "Personal matters have diverted attention away from the important work Sesame Street is doing and I cannot allow it to go any longer. I am deeply sorry to be leaving and am looking forward to resolving these personal matters privately."