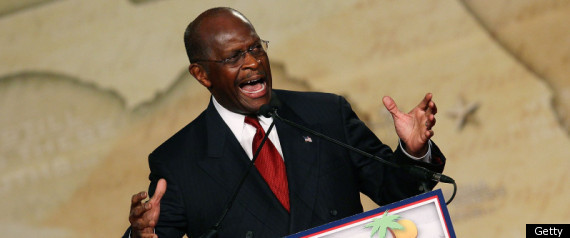 Republican presidential candidate Herman Cain came out on top in the Florida straw poll on Saturday.
The former CEO of Godfather's Pizza won the test of conservative strength with roughly 37 percent of the vote. Texas Governor Rick Perry came in second place, followed by former Massachusetts Governor Mitt Romney, who did not actively compete in the event. Here's a full breakdown of the results:
Herman Cain: 37.11%
Rick Perry: 15.43%
Mitt Romney: 14.00%
Rick Santorum: 10.88%
Ron Paul: 10.39%
Newt Gingrich: 8.43%
Jon Huntsman: 2.26%
Michele Bachmann: 1.51%
Perry, who was expected by many to win the straw poll, signaled his belief earlier in the day that it was a "big mistake" for rival candidates like Romney and Bachmann to opt against campaigning for support in the event.
HuffPost's Jon Ward reported from Florida on Friday:
Just a few weeks ago, the Texas governor was taking the Republican presidential primary by storm, but his star has fallen rapidly over the course of his first three debates. On Thursday night, it came crashing down.
Conservatives flocked to the three-day conclave here – kicked off by the Google-Fox News debate Thursday night – "ready to marry" Perry, but left "spooked" by his performance, said one Florida Republican with contacts among both campaign operatives and grassroots activists.
That discontent has been building, though it's not final in any sense. Perry's fortunes have fallen in large part because of a series of gaffes that demonstrated his lack of discipline and experience on a national stage. In several key moments during the past few weeks, the governor showed a tendency to undermine some of his best moments and to make tough or difficult moments even worse. His potential supporters have grown leery of Perry as the list of his unforced errors has grown longer.
Before hitting bumps in the road, Perry experienced a surge in the polls after announcing his candidacy for president of the United States. The Texas governor jumped into the GOP primary race the same day as the Ames Straw Poll. He did not actively compete in the event, which was won by Bachmann.